Compliance Reporting in Astra Pentest
What is Compliance Reporting in an Astra Pentest?
Compliance Reporting in an Astra Pentest helps outline the vulnerabilities in your application that might be causing you to violate the requirements of the compliance standards you want to meet.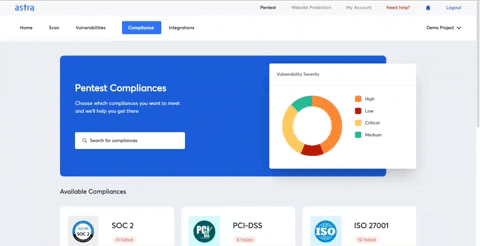 Astra Pentests are just one of the requirements of a compliance standard, and there would be additional requirements for an application to meet a compliance standard. Our compliance reporting shows the security checks that the application is failing.
Our manual scans are more elaborate as they check for business logic vulnerabilities which are challenging to be found by automated scanners.
You can find Compliance Reporting for SOC 2, PCI-DSS, ISO 27001, GDPR, HIPAA & OWASP 2021.
Updated on: 10/08/2023